...Half a Century of Cutting Edge Engineering...
Nearly half a century of cutting edge engineering has created this Standard Contractor model. But there is nothing standard about it! Our flawless well integrated overall design now comes with optional diamond plate steel or extruded aluminum decks and rear fold-down gates. It's powder-coated head to toe. WOW!
Side loader rack with extra heavy duty 4x2 longitudinal bars that drop down 4-inches, meaning you can easily carry ladders, forms, or scaffolding.
Top deck mounted boxes, addressing a wide variety of storage needs.
Gates that fold down in the rear that creates both a work platform and an ease of loading and unloading of equipment into the bed area.
Dividable deck area between the space between the boxes, for heavy machinery such as compressors or welders, and the rear platform, for bags of concrete or a wheel barrel.
Stainless steel rear apron mounted between the dock bumper uprights , hiding the unsightly under-deck clutter.
Class IV and Class V Recievers with 5- and 7/4-prong trailer connectors
Rack straps that ratchet to 500 lb. pressure
Carry longer loads with racks that extend to the front bumper
Front stops, roof shields, conduit pockets, and conduit boxes mounted on the rack
Steel or Aluminum Fold Down Gates (in lieu of standard wood)
Front and rear under bed boxes for added storage capability
Rear under bed Stakebox for steel stakes
AOK (All-One-Key) Locking. Makes your ignition key locks everything!
Light bars, beacons, work lights, and other lighting options
Rear Back-Up Alarm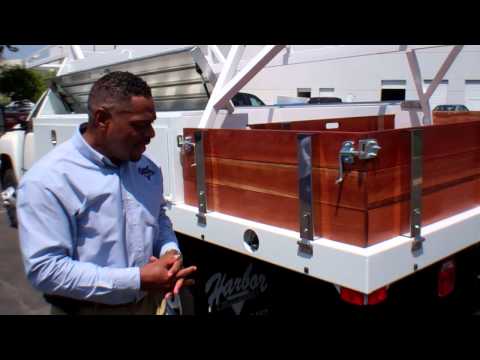 Call
(800) 433-9452

for more information, or to find a stocking dealer near you. Dealer Locator